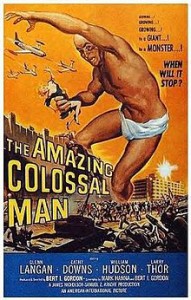 A Bert I. Gordon film! Our film of the hour starts with military people driving down a road and a narrator talks about detonating a plutonium bomb. Our titular Colossal Man is normal sized and is hiding in trenches with some other men as the countdown hits zero, but it's an Amazing Colossal Dud. The soldiers chat for a bit, but they hear a plane flying above them. The plane flies in circles then crashes near the bomb. Our Average Regular Man jumps out of the trench to save the pilot, but the bomb finally decided to explode. He survives, but has massive burns on his body so I assume this bomb sucks at mass murder. A woman asks a nurse how he's doing, but gets no response. A reporter walks up to her and chats about it to her and we learn she's his fiancé. They talk about how he should be dead, they were supposed to get married the same day, and that they met because she's a crappy driver. The doctors pessimistically talk about how they can do nothing to help him and how he is gonna die in the morning.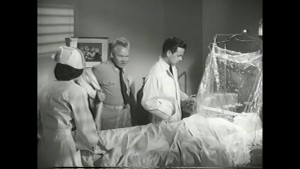 The doctors continue to be pessimistic as his fiancé asks for confirmation. We get a shot of watching our Horrible Burned Man and we get a long shot of the doorframe as the doctors come to cut the bandages off. We see the man is perfectly fine. So now we see the bomb is worthless because it regenerates skin tissue! The fiancé is overjoyed! We finally learn the man's name is Glen and we learned that he might have survived because of the bomb explosion. They watch a recording of the bomb and it destroys a model home then we see the burning of Glen. Someone visits the fiancé and tells her that she won't be able to visit Glen. When she asks why he just says it was classified. Well that scene had a load of purpose. She goes anyway to see him, but he's gone. We then learn her name is Carol when she asks about his whereabouts. She doesn't learn his new local and ask about the doctor who treated him. So Carol looks through the records and runs off. She drives to a military hospital and they let her pass. They say he isn't here, but she keeps going anyway and just starts trying doors. She hears the doctor and another man talking about Glen and she sneaks by when they leave. She sees that Glen grew at least triple his regular size, screams, and then faints. They explain that the government wanted to keep hush, hush on the growing man. He gives some scientific explanation that the body just keeps growing and renewing while the old cells refuse to die. We see a flashback to Glen and Carol hanging out as the Korean War started. We see a plane crash and Glen's war buddy getting stabbed in the back. Then we see another flashback of him kissing Carol and then a flashback of the bomb. He finally wakes up and inspects his tiny room. I'd hate to see his toilet. Glen obviously takes it poorly and they decide to move him into a tent. Carol talks to him for a while and he asks why he has to live with this. Then we see a news report of a man explaining stuff, then it just cuts away and we see the doctor holding a bunny. He stands over another doctor and they inject the bunny with stuff. I assume these are the bunnies from Night of the Lepus. Glen is shown talking to Carol and it's a good thing they always give him bigger and bigger shorts.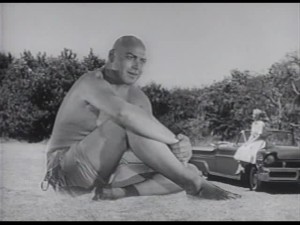 He talks about the irony of his college yearbook saying he'll reach the top. The doctor talks to her about how having her there is giving Glen troubles. They go back to the lab and we see Glen go to his new tent home. It certainly is roomy. They give him a tiny book and I'd love to imagine its BFG for irony. A man brings him food and Glen starts talking to him. He tries reading the paper and he starts laughing.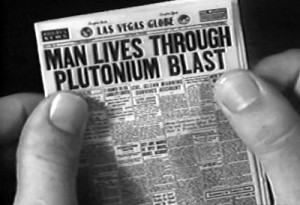 He gets mad at the prospect of living. Glen laughs a bunch then he convulses in pain. The doctor and Carol talk about science stuff and that his heart was growing much slower. He also says the heart is made up of only one cell. Crows response, "You're not a real doctor are you?" Single cell heart this is insane. We see more data being pulled in real time and it's as boring as it sounds. I'll admit the soldier I forgot was in the background startled me. Then they start talking in a room with an elephant and camel. Carol visits Glen in the night and they chat for a bit before he convulses again. Glen apparently fled in the night and the other scientist found a cure in the bone marrow. Then we see an awful effect of a tiny elephant and camel. There's also a giant needle ready for him. What I want to know is how the hell they lost a 50 foot man? They don't find him. The doctor and a military guy chat about finding Glen and Carol walks in when they mention killing him. She gets upset and he says they'll only shoot if he shows trouble. She tries to rationalize it, but they ignore her. Two people find Glen just sitting in the street and the alcoholic throws his bottle out the window. I'll admit that type of joke does get a slight chuckle out of me. Carol gazes longingly out the window and we see the doctor and military dude chatting. Carol pops in and asks for progress. No progress. He just asks her to leave for good. There's a military briefing and it's only in here for long and boring paaaaaaaaaaaaaaaaaaaaaddiiiiiiiiiiiiiiiiiiiiiiiiiiiiiiing! Now we see a scene in LA and have a random news scene that is once again for some good old fashioned paaaaaaaaaaaaaaaaaaaaaddiiiiiiiiiiiiiiiiiiiiiiiiiiiiiiing! Glen stops in LA and everyone sees him and freak out. He looks in a window to see a woman bathing and he punches her window. Glen pulls a fake crown off a building and puts it back.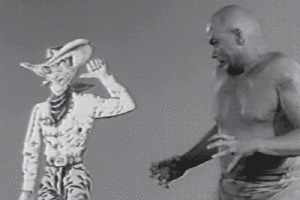 Is he gonna do the same with the giant high heel? He is…must I repeat myself? This entire last 15 minutes is slow and boring. Then a guy shoots him to liven up the mood I think. The helicopters finally find him and he stops by a dam. They inject him, but he throws it down the needle and it kills the military dude. He snatches up Carol and goes to the end of the dam. We see an awful shot of her in his hands and when he puts her down they shoot him a bunch and he falls off the dam and into the ravine. He has a hilarious fall and it abruptly ends. The intro skit is Joel trying to get Crow and Tom out of their cardboard hideout to do their chores. Kinda funny. Invention exchange is a plant that reviews music for the Mads and Joel's is a non-permanent tattoo that can be drawn on a paper wax-board and changed for your newest girlfriend. Both were pretty funny. Next skit is Joel teaching the Bots how to be nice to a spouse when her fiancé is suffering from an awful injury. The Bots aren't having any of this. Middle skit is Joel turns a 50 feet tall and the Bots ask him random questions. Joel gets mad at them for misunderstanding humans and crap. Not funny. Last skit is my ever so favorite joke ever. Glen WALKS up to the Satellite. It doesn't start out that way. It starts with them chatting about what they'd ask him. Mike Nelson plays Glen and he brings a bit of snark to the role. He says he does minor giant bald guys role and he stops for a sec to eat a cow. They reference the Vegas scene that didn't happen at this point. He then quotes the movie and has a heart convulsion. I'll admit this one actually kinda funny. It got some chuckles out of me. Last skit is Joel and the bots talking about what they would have done in the LA scene. This episode was…eh. It had some funny moments, the sketches were mostly funny, and the person hanging out with the SoL was kinda funny. The movie itself has lots of problems with padding and the acting is kinda stilted sometimes. Carol irritated me a times due to how much he was butting into business when her husband might have had radiation poisoning. Also they should have scrapped that bomb. It regenerated a man and he grew to massive size! We don't want to use that on our enemies! If the episode were on TV I wouldn't turn it off.
Episode Rating – 6/10
Movie Rating – 2/10
Favorite Riff – (From the skits) "Think of it. You're stranded in space, you'll never see your family again, and when the orbit on the satellite decays you'll be burnt to a crisp, but you never hear us talk about it when you're around!" or (from the movie) 'Well you're a doctor, tell me!' "No, no, no I'm only a vet."
Stinger – Glenn cracks up and then convulses.
Episode – https://www.youtube.com/watch?v=a-w2Q0UkkDM
Trailer – https://www.youtube.com/watch?v=zgpv7_4uonQ