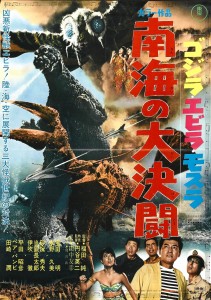 Next Godzilla movie! I can't wait! As you can plainly tell from the length of the last review I am a colossal Godzilla fan. This was originally supposed to King Kong, movie, but it became a Godzilla movie when they couldn't get the rights to show King Kong. This is the first time we see Film Ventures International distribute a movie so something to point out about the movies. They never used the actual opening credits. They used footage from other movies with god-awful quality. The footage for this movie was from Son of Godzilla. The movie Godzilla's Revenge uses mass amounts from stock footage from this movie and Son of Godzilla to the point where it might as well be a greatest hits movie. We see footage of a ship being thrown and tossed asunder by a dangerous storm. Two months later I guess we see people praying. They talk about how a woman's son is either dead or alive. He was on the ship destroyed by the storm. Then we see people partying. Some guy wants to get on a boat and they decide to steal it. For some reason the guy who owns it lets them stay for the night, but they must leave early. What he didn't expect was for them to get them out to sea. The three conclude that the owner of the boat stole a bunch of money. They come to this conclusion after he turns off the radio when it mentioned a man who stole said money. The person who stole the boat is looking for his brother who presumably is the same brother who died in the boat crash. Apparently storm clouds come over them so that means they're probably gonna die like the dudes brother. Well if they wanted to meet the brother in heaven they're almost there. It's true though about him stealing the money. It breaks out of a suitcase and is covered in water. A giant claw destroys the boat and they washed onto shore. They all survived too. They then start rock climbing. As long as it's not twenty minutes long I'm fine. They get to the top and one of them cuts his hand on a sword. They dine on fruit and discuss their location. They find a ship and they jump with joy. They find a military base guarded with armed gunman and the commander wears an eye patch. Part of the cargo they're bringing on is a woman and a bunch of other people. The people run off, but are gunned down. The soldiers waste bullets shooting at two dudes on a rowboat. Doesn't matter though. The island is guarded by a giant crab monster named Ebirah. Not a particularly cool monster. Just a giant crab.

Ebirah
In Godzilla Final Wars Ebirah is killed by regular humans and mutants. The lady has escaped into the jungle and the talk of cannibals is really reminding me of Jungle Holocaust. That means it won't end well in the slightest. Then I think we see actual cannibals (okay they're actually just island people) praying to their god. Mothra. Mothra is apparently really lazy and can only do stuff if she is prayed to.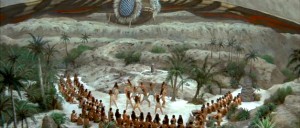 Our heroes find Godzilla being super lazy and sleeping. They try to sneak into the enemy headquarters for…some reason. They quickly enter the building and find out the villain group is named Red Bamboo. They just sort of enslave the natives of the island. They make some sort of weird gas weapon. The thief finds a way out of a room for them and they continue to wander a round. Our heroes meet Sergeant Cyclops (not his actual named) and they through the gas weapons at them. Maybe it's mustard gas. They escape and the villains shoot them at with worse aim than the Storm Troopers. One of them flies off in a hot air balloon. Huh. They return to the Godzilla room. He remains asleep. One of the guys was captured and brought to the room of slaves. The gas formula apparently stops the monster Ebirah from attacking. Cut back to Mothra and it's still asleep. The hot air balloon guy lands halfway through the Mothra wake up dance and he meets his brother who is somehow alive. They decide to wake Godzilla by sticking the sword in the rocks and wire leading to his back and wait for lightning to strike through it to wake up Godzilla. The two brothers reach Ebirah's location, a storm starts, and lightning strikes thus waking Godzilla up. I assume the two brothers die and they don't. Godzilla breaks through his stone-resting place and he seems pretty small for some reason. There are frequent shots of the sky I forgot to point out. They just point to the sky for no reason. So Godzilla and Ebirah get involved in boulder tennis and almost kill the brothers with said boulder. They keep doing boulder tennis. I guess Godzilla's fire breath takes some time to charge when he wakes up. Never mind he's frying Ebirah with said fire breath. Ebirah and Godzilla engage in fisticuffs for a while, until Ebirah takes the fight underwater. Godzilla smashes him with a boulder a few times so Ebirah flees for now. Our heroes try to capture Godzilla for some reason. And our heroes are reunited with the brothers. The evil dudes run into Godzilla and they run off in fright. Godzilla chases after the girl once again reminding us once again that it was supposed to be King Kong. Then a Giant Condor attacks Godzilla. This fight scene is awful. The camera is just shaken around as the bird puppet it flapped around as Godzilla flails awkwardly. Then he kills it with his fire breath. Well that was pointless. Then some fighter jets attack Godzilla. Ends as well as you'd think. Godzilla then goes over the base and crushes it. The slaves are almost killed by Godzilla, but Godzilla loses interest. Sergeant Cyclops sets the Island to explode as the slaves try to escape and are barely saved by out heroes. Really astounds me that there's twenty minutes left. The villains try to use their gas, but it's a fake and they are all immediately killed. Godzilla and Ebirah fight again. They just sort of splash around and occasionally hit each other.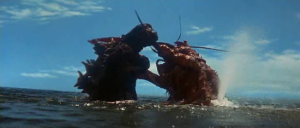 Godzilla shoots fire, then back to underwater fighting. Godzilla bites off his claw and rips off the other arm. Then Ebirah just leaves. The slaves make a makeshift…thing, but they decide to take Mothra off the island. Oh right Mothra was in this movie! Godzilla just walks off and roars a bit to Mothra. Probably arguing over how lazy Mothra is and how she'll be the cause of SpaceGodzilla. Godzilla shoots some fire at her so she shoots some heavy air at Godzilla. She flies the people off as the island explodes. They try to convince Godzilla water as the island explodes, but Godzilla has survived plenty of nuclear explosions. Then they use mirrored stock footage of Godzilla jumping in the water used in the previous episode. They open it up like there's going to be a sequel, but unless the Red Bamboo were working for the Black Hole Planet 3 Aliens (Race of monkey people who made MechaGodzilla) I doubt it would happen! Opening skit is Joel reading Velveteen Rabbit story. Joel's invention is the Mind Control Guitar. Neat. Dr. F's is Doggie Chew Toy Guitars. Both are kind of funny. The insane cinematography for Dr. F and Frank playing is hilarious. Next up is the Godzilla Genealogy Bop song sung by Joel. Sung to explain Godzilla's fictional history. This song is actually pretty good. Ron Perlman is grandson of Godzilla. Let that thought see in. Next skit is weird. Joel builds famous monuments out of random appliances he found around the ship. Tom and Crow think he's slowly going insane so they destroy the models for his own good. Next skit is…the Mothra talking to the bots when they pretended to be the twin priestesses. You know my feelings by know. Hate it! Last skit is Joel teaches the bots about famous saying that actors didn't actually say. Cut out Mothra's very limited appearance and remove all instances of Godzilla and replace it with King Kong. Congratulations you just made this movie into King Kong vs. the Sea Monster! The movie is mediocre and by Godzilla stands regardless. It's slow, the fighting is dull, and I was never particularly liked Mothra in the original series. S/he really became cool when it started kicking ass in Godzilla vs. Mothra in the Heisei series. The episode has some funny moments, but it's not as funny as Vs. Megalon. I'd still recommend it.
Episode Rating – 4/10
Movie Rating – 4/10
Favorite Riff – "Playboys and a half eaten sandwich. This is the janitor's room!"
Stinger – Everyone bows down before Mothra
Episode – http://www.metacafe.com/watch/7703783/mst3k_s02e13_godzilla_vs_the_sea_monster/
Trailer – https://www.youtube.com/watch?v=tCmSAp8NCRU (English) https://www.youtube.com/watch?v=ozH1Oxz_zeI (Japanese)